Men National
National
Andhra Pradesh Captain Venkateswara Rao scores a century as AP lifts the 'Nagesh Trophy for Blind Cricket' for the second time in a row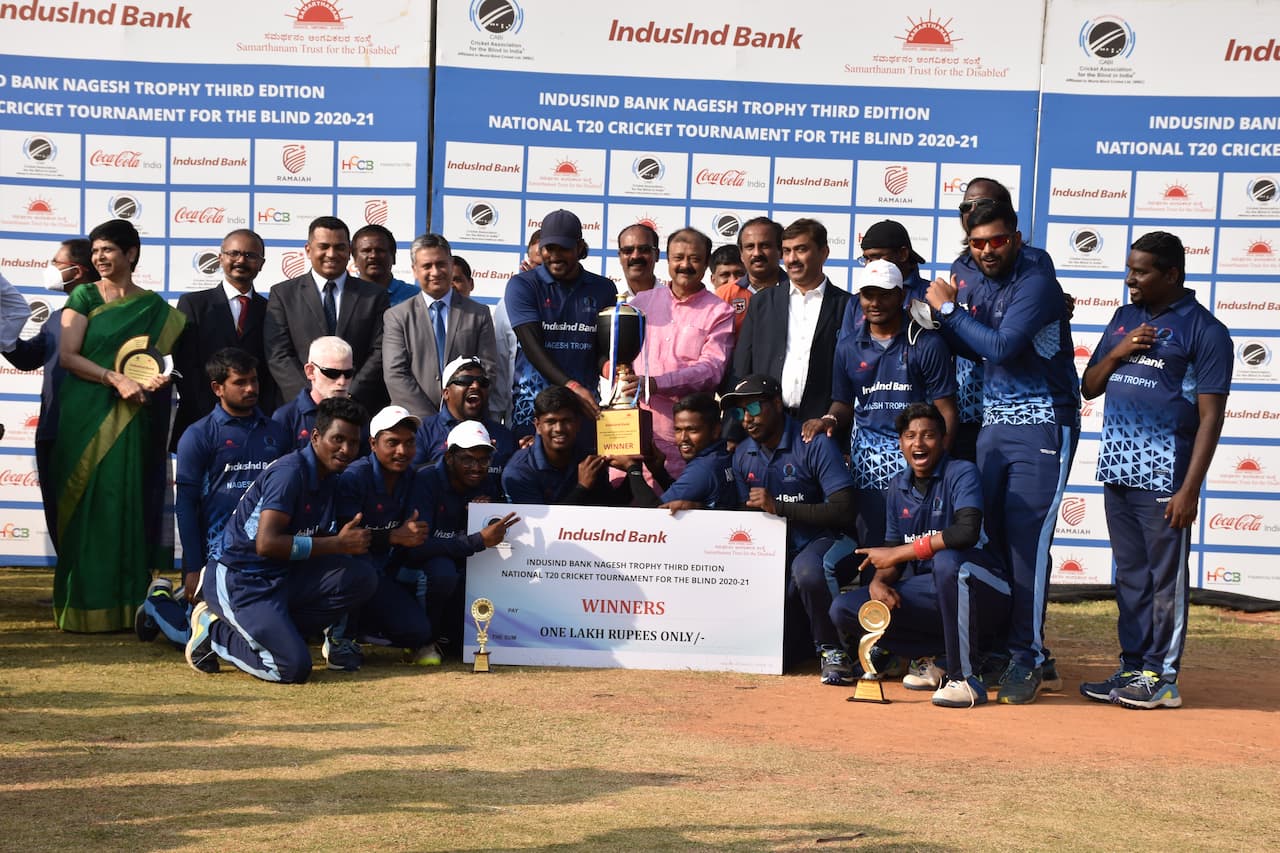 The IndusInd Bank Nagesh Trophy for Blind Cricket comes to a close in an eventful manner with a thrilling finale. In the finals played today at Bengaluru's Altiore Cricket Grounds, Andhra Pradesh exploited the conditions well and dominated Odisha from the very start to earn the coveted Trophy.
Player of the Match, captain Venkateswara Rao won the toss and made a wise move and opted to bat first; the idea was to amass a big total and put pressure on Odisha. He commenced his innings well with the company of Thandava Krishna (22 of 16) and stitched a valuable partnership with Durga Rao (47 from 30) to score an unbeaten 132 from just 65 deliveries. He smashed Odisha's bowlers to all parts of the ground, smashing 23 fours to set up a formidable total for the opponent (246/3). The impact of his batting was such that all Odisha bowlers had run rates that exceeded 10.
AP's Durga Rao played a key role to put pressure on Odisha's chase. He bowled 4 overs for 2 wickets by conceding just 15 runs and turned the match completely to AP's favour as at the end of 10th over Odisha was scored only 78 runs. At the end of 20th overs, Odisha scored 166/5 (Sukhram – 52 from 33 and Nakula – 40 from 41). Andhra Pradesh won by 80 runs and lifted the trophy for the second time in a row.
Shri K.C. Narayana Gowda, Hon'ble Minister of Youth Empowerment & Sports, Shri Damodar, Public Affairs & Communication – South India, Hindustan Coca- Cola Beverages Pvt Ltd, Shri Manish Misri, Zonal Head – South 1, Branch Banking, IndusInd Bank, Dr Aruna, Ramiah Institute, Dr Mahantesh G. Kivadasannavar, Founder Managing Trustee Samarthanam Trust for the Disabled along with CABI Officials were present during the presentation ceremony.
Presenting the trophies, Shri K.C. Narayana Gowda, Hon'ble Minister of Youth empowerment & Sports said "I am very happy to see that such initiatives from Samarthanam Trust for the Disabled and CABI; a platform like this propels players to overcome all hurdles and perform at the highest level. The IndusInd Nagesh National Cricket Tournament for the Blind has witnessed many exceptional talented Cricketers take the field in their quest for success and glory. He also offered support from the Government by providing facilities including ground in Bangalore for the development of Blind Cricket. He would take this matter with the Honourable Chief Minister and Honourable Prime Minister of India."
Shri Manish Misri Zonal Head- South1 Branch Banking, IndusInd Bank said "Our CSR initiatives are focused and we take into account the overall impact socially, economically, and environmentally to ensure its positive impact for the underprivileged and disabled"
Dr Mahantesh G. Kivadasannavar, Founder Samarthanam Trust for the Disabled added, "After Eight days of exhilarating cricket, I would add that the 3rd edition of IndusInd Nagesh Trophy has exceeded the professional standards of the past two editions. This tournament has been well supported by the Corporates, Media and Public. It has sparked nationwide interest in the sport which will help accelerate the development of the game throughout India and globally. I would like to congratulate all the players for a job well done and thank them for their dedication, confidence and their abilities.
About Samarthanam Trust for the Disabled: In 1997, Mahantesh G.K. envisioned an organization to provide opportunities for deserving and talented children, regardless of disability and economic background. Thus, more than a decade ago, Samarthanam Trust for the Disabled came into existence to provide free hostel facilities to deserving students. Since its inception, Samarthanam has been working to empower the visually-impaired, disabled and underprivileged people in India by providing quality education, accommodation, food, vocational training and placement-based rehabilitation, and enables them to achieve personal independence. The larger vision of the organization is to work towards an inclusive society which provides equal opportunities for all. For more details visit www.samarthanam.org
About CABI: Cricket Association for the Blind in India (CABI), the cricketing arm of Samarthanam, was registered to govern cricket tournaments in India. CABI is the apex body organizing cricket for the blind and is affiliated to World Blind Cricket (WBC). CABI organizes zonal, state and national cricket tournaments in India and abroad, and was conferred the hosting rights to organize the T-20 World Cup for the Blind. The Board of Control for Cricket in India (BCCI) has formally acknowledged CABI and assured support to its endeavors.
Samarthanam Trust for the Disabled through its sports body CABI endeavors to provide blind cricketers this unique opportunity. Sports opens up employment opportunities for persons with visual impairments, physically challenged and economically weaker sections. For more details visit www.blindcricket.in
The purpose of this tournament is two-fold. Firstly, to bolster the self-confidence and sportsmanship of these visually challenged athletes by exposing them to other facets of the sport such as – discipline, teamwork, fitness, strategic planning and a spirit of competition. Secondly, to recognize and nurture a promising talent pool who can then represent India at several International blind cricket tournaments.