International
Match Schedule – Tri-Nation Blind Cricket Tournament on the occasion of Mujib Borso and the 50th Anniversary of the Independence of Bangladesh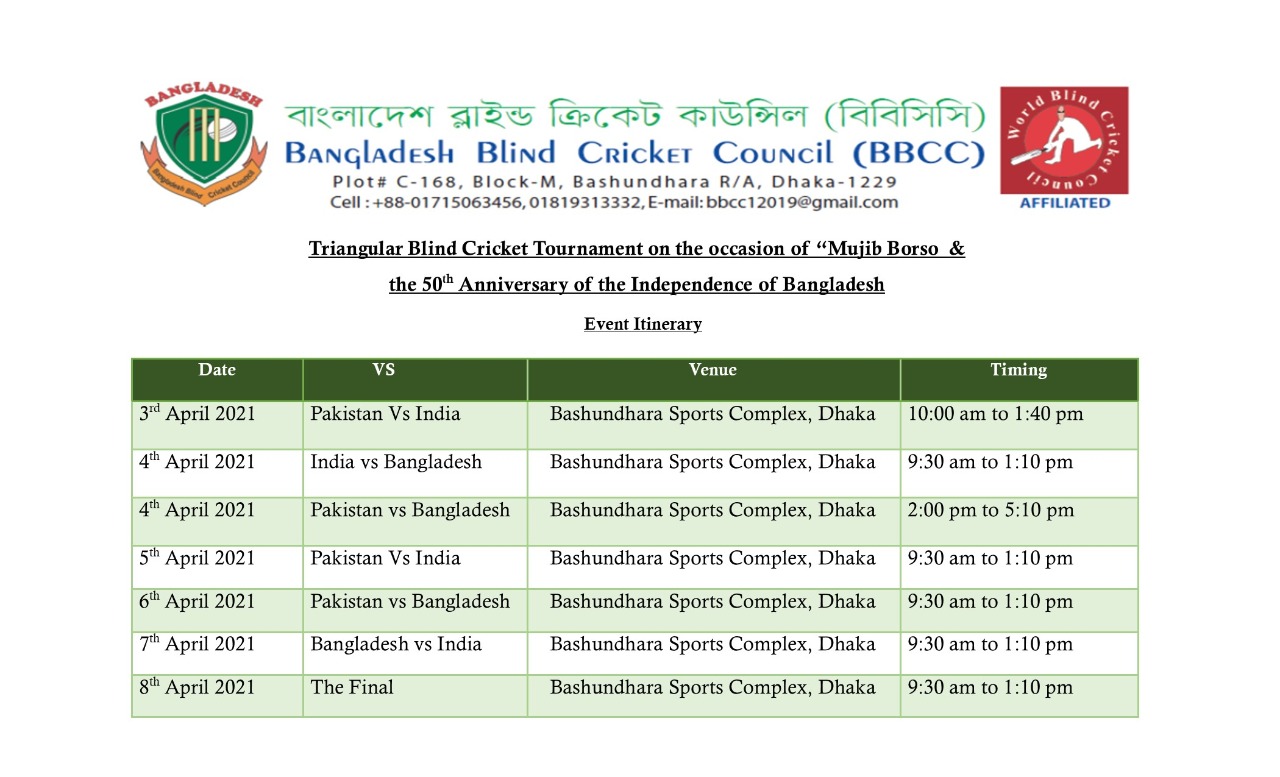 CABI Announces the Indian Squad for the Upcoming Tri – Nation Series In Dhaka, Bangladesh
The Bangladesh Blind Cricket Council (BBCC), an affiliated organization of the World Blind Cricket Ltd. (WBC) is organizinga Tri- NationBlind T- 20 Cricket Tournament from 02- 08, April 2021in Dhaka on the occasion of the 'Birth Centenary of the Father of the Nation -Bangabandhu Sheikh Mujibur Rehman' – "Mujib Barsho" and the 50th Independence Anniversary of Bangladesh.
India, Pakistan and the host Bangladesh teams will be taking part in the Tri- Nation Blind Cricket Tournament. This will be the first International tournament for the Blind since Covid -19 and the teams will follow all the terms and conditions along with the COVID -19 guidelines.
The Indian team is selected by the selection committee of CABI and the chairman of the selection committee Mr John David has confidently expressed that the best team is being selected and the team will perform it's best as the world champions. Mr Mahantesh G K the President of CABI feels that it is a historical tournament and wishes the best to The Bangladesh Blind Cricket Council (BBCC)as they organize their first International Tournament. He is pleased with the team selection and has conveyed his best wishes to the entire team.
The selected Indian team is being represented by players from 09 states of India. Following would be the list of the selected players who will be representing India in the Tri- Nation Series at Dhaka, Bangladesh.
Serial Number Name Category State
1 Kalia Pradhan B1 Odisha
2 AkshayBorikar B1 Goa
3 Sujit Munda B1 Jharkhand
4 Mohammed Jafar Iqbal B1 Odisha
5 AkshayChoudhri B1 Maharashtra
6 BasappaWaddagol B1 Karnataka
7 I Ajaykumar Reddy (Captain) B2 Andhra Pradesh
8 D Venkateswara Rao B2 Andhra Pradesh
9 Maneesh Anandan B2 Kerala
10 Lokesha B2 Karnataka
11 DibyaenduMahata B2 West Bengal
12 Sunil Ramesh (Vice -Captain) B3 Karnataka
13 Deepak B3 Haryana
14 T Durga Rao B3 Andhra Pradesh
15 Pankaj Bhue B3 Odisha
16 PrakashaJayaramaiah B3 Karnataka
17 A Ravi (Wicket Keeper) B3 Andhra Pradesh
The coaching camp for the National Blind Cricket Team will be held at Bangabasi College Cricket Ground in West Bengal from March 25 ,2021 to March 31,2021 and the selected players will be preparing themselves for the upcoming International Tournament. The Indian Blind Cricket Team will be taking part in the upcoming Triangular Series at Dhaka in Bangladesh after they complete the scheduled coaching.