Men National
National
Andhra Pradesh crowned champions of the second edition of IndusInd Bank Nagesh Trophy 2019-20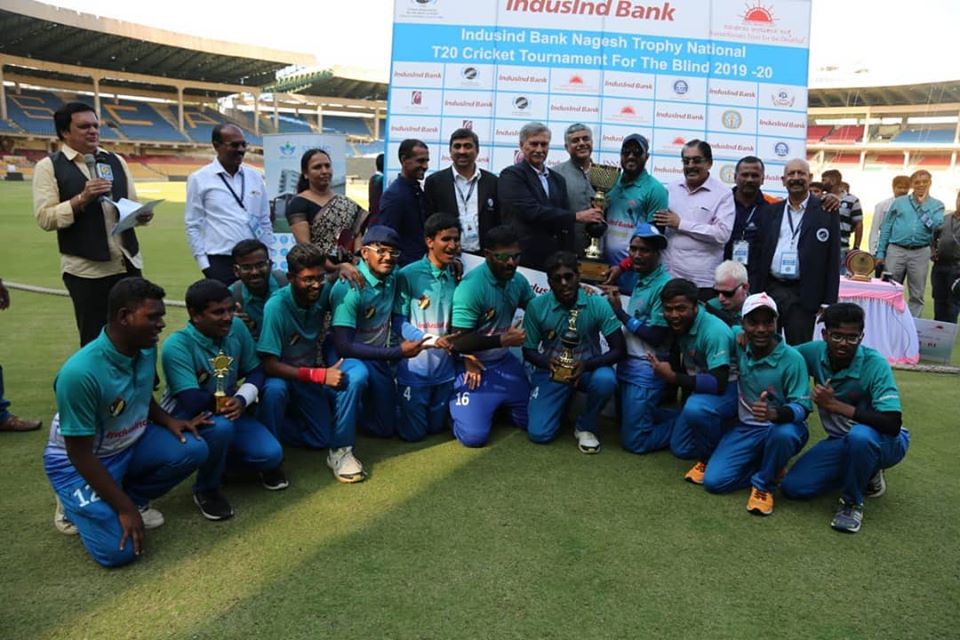 Bengaluru: Andhra Pradesh lifted the coveted IndusInd Bank Nagesh Trophy National T20 Tournament for the Blind 2019-20 by defeating the hosts Karnataka at the Chinnaswamy Stadium here today. Thandava Krishna, D Venkateshwara Rao and Ajay Kumar Reddy from AP notched up good scores to overwhelm Karnataka's score of 197 runs with 3 overs to spare at the loss of just 2 wickets.
Andhra Pradesh won the toss and decided to bowl first in the finals. Karnataka took early advantage of the home conditions with an impressive opening stand of 52 runs in just 4 overs. Openers Prakash Jaiyaramaiah and Lokesh laid the foundation for what was supposed to be a big total. Lokesh was on a hitting spree and the team crossed 100 runs in 9.2 overs with a run rate of over 11 runs.
However, the team lost steam midway and ended up scoring 197 runs for the loss of 6 wickets from the allotted 20 overs. Lokesh hit 50 runs in 39 balls and remained unbeaten on 68 runs. Sunil R played a captain's knock by scoring a quickfire 44 runs in 22 balls. However, Karnataka fell short of 200 runs, which could have been a challenging score for AP to overcome. In all, Karnataka's batsmen hit 18 boundaries with AP bowlers maintaining discipline and length in the second session.
Andhra Pradesh began the chase on a cautious note, as they knew victory was possible with a strategic approach. The floodgates opened with four byes and in the first over itself as it ended with 16 runs. AP players maintained a good run rate of 13 and above in the first four overs, matching Karnataka's score of 50 runs in the first 4 overs.
Karnataka managed to secure the first wicket of AP when the score was 76 runs. Big hitter Venkateshwara lost his wicket after he was stumped by Prakash Jayaramaiah with Basappa bowling from the other end. Venkateshwara scored 49 runs and the next players maintained the momentum with 11+ runs per over plus throughout their innings.
AP lost just 2 wickets in the match with victory coming in the form of a 'no ball'. AP team was impressive in their batting while their plan of bowling first worked, as they restricted Karnataka to less than 200 runs. A Venkateshwara Rao (B1), who took two important wickets, was declared the player of the finals.
The tournament was organised by CABI (Cricket Association for the Blind in India) and Samarthanam Trust for the Disabled. The AP team collected a cash prize of Rs 1 lakh while runners up Karnataka received Rs 75,000. The two semi-finalists Haryana and Maharashtra, who couldn't make it to the finals, were given Rs 40,000 each.
Veteran Indian player and KSCA president Roger Binny handed over the IndusInd Bank Nagesh Trophy National T20 Tournament for the Blind 2019-20 to AP captain D Venkateshwara Rao. Guest of Honour, Rajeev Gowda, MP, assured all help to promote blind cricket in India.
Players of the series in three categories:
B1 category: Rohit Sharma from Jammu and Kashmir (B1 is totally blind)
B2 category: Ajay Reddy from Andhra Pradesh (B2 is partially blind)
B3 category: Sunil Ramesh from Karnataka (B3 is partially sighted player)
Scores:
Karnataka: 197 for 6 wickets (Lokesh 68, Sunil R 44, Prakash 36; Venkatesh 30/2, Durga Rao 40/1)
Andhra Pradesh: 198 for 2 wickets in 17 overs (ThandavaKrishna 62, D Venkateshwara Rao 49. Ajay Kumar Reddy 47; Basappa 40/1)