National
IndusInd Bank Blind Cricket Conclave organized by Cricket Association for the Blind in India and Samarthanam Trust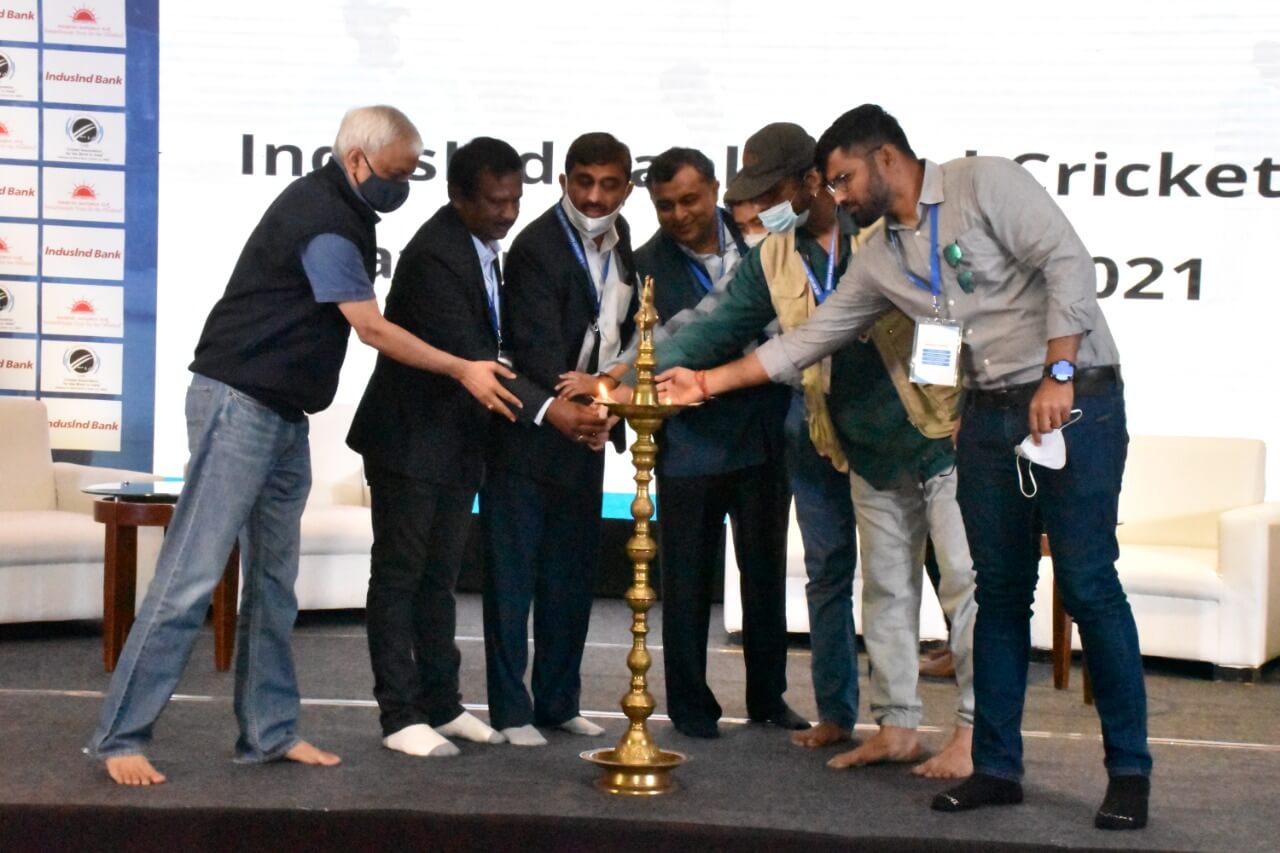 13th March 2021, Bangalore: Cricket Association for the Blind in India (CABI) and Samarthanam Trust in association with IndusInd Bank organized a Blind Cricket Conclave on February 13th, 2021 in Bengaluru. The Conclave recalled the achievements of Cricket for the Blind, the success stories and the future of blind cricket with ways to widen its reach.
Dr Mahantesh G Kivadasannavar, President of CABI, Founder Trustee, Samarthanam Trust for the Disabled, Shri Adwait Hebbar, Head Corporate Services & CSR, IndusInd Bank, Shri Paneesh Rao, Chief People Officer, Mind Tree, Shri Milind Gunaji, Bollywood Actor/ TV Host, Shri Sujith Somasundar, Former Indian Cricketer & current mental conditioning Coach, Indian Men's Team, Ms. Shantha Rangaswamy, Former Indian Women's Team Captain & BCCI Apex Council Member, Shri K.T. Rajan, Head of Technology & Innovation, India, British Deputy High Commission, Dr Anil Rao Paila, Senior Dean & Director, WeSchool, Ms Pallavi Raj, IndusInd Bank, Shri Subhash Mahajan Ex Indian AirForce, Ms Kripa Williams , CSR Allergan and CABI officials were present in the Conclave.
The Impact Study Report on CABI, and the CABI Documentary film at the Conclave was released.
In his address, Dr Mahantesh G.Kivadasannavar welcomed and thanked all dignitaries , supporters and Blind Cricketers from across India who were present in spite of the pandemic and said "I am sure that the Conclave will generate fresh ideas, insights and solutions to challenges of Blind Cricketers -India in particular and global in general. This Blind Cricket Conclave is a milestone in the journey of blind cricket." He added.
Shri Milind Gunaji, the famous Bollywood Actor& T.V Host speaking vociferously at the Conclave said" Support from the Society to the Blind Cricketers should come not out of compassion or sympathy. It has to be more competitive as the Cricketers are quite talented"
The full day event presented a picture on how the visually impaired Cricket players have undergone a complete transformation by adopting blind cricket as a career.
Panel Discussions were also held, and experts and eminent Speakers shared their wisdom and deliberated on the action points to make Cricket for the Blind bigger and effective. The Panel Discussions also revolved around the mainstream and Blind Cricketers, the mental aspects of the game, the role of Samarthanam in the growth of the Blind Cricket and Cricketers, impact of corporate support on sports, effective collaborations, corporate involvement in disability sports and the way out in raising money and sponsorships.
A few eminent cricketers and visually impaired cricket players shared their cricket experiences and playing techniques as well.
About Cricket for the Blind:
There are thousands of blind cricketers in India waiting for an opportunity to explore their passion for cricket and prove their abilities to contest at the International levels like any of their cricketing peers in the country. Samarthanam Trust for the Disabled through its sports body CABI endeavors to provide them with this unique opportunity. Besides, sports as is well known opens up employment vistas for persons with visual impairments, physically challenged and economically weaker.
About Samarthanam Trust for the Disabled:
Registered as a Trust in 1997, Samarthanam Trust for the Disabled has been working towards creating education and livelihood opportunities for persons with disabilities and from underserved communities. The larger vision of our organization is to work towards an inclusive society which provides equal opportunities for all. More details can be found at our official website